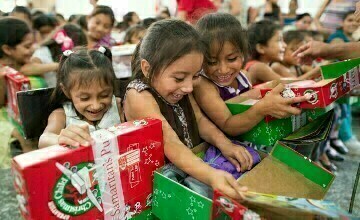 Operation Christmas Child
GO Church has partnered with Samaritans Purse for the world's largest Christmas project of its kind, Operation Christmas Child.
Gift-filled shoeboxes are used to show God's love in a tangible way to children in need around the world. More than 7.4 million children have taken part in The Greatest Journey, Operation Christmas Child's follow-up program. The Greatest Journey is offered to many children who receive shoebox gifts, to help them learn how to know and follow Jesus, as well as to train and equip churches within their communities.
Fiji
GO Church has recently partnered with Pastor Sairusi & Litiana from Apostles Gospel Outreach Fellowship International in Lautoka, Fiji.
Pastor Sairusi & Litiana leads several churches in Fiji and has a real passion for seeing Fiji won for Jesus. GO Church supports and sends teams every year to Fiji and sees many saved and healed in villages, prisons and hospitals.